When you purchase through links on our site, we may earn an affiliate commission
Espiche Golf Course
Price Per Night From: £57
Return Flights From: £102
The Espiche Golf Course, located 10 kilometres northwest of Lagos, is one of the best in the Algarve. Read on for our complete guide to finding the best nearby hotels, golf packages and the cheapest green fees when playing this truly stunning golf course.
Espiche Golf Course Green Fees
Espiche Golf Course green fees range from €51 in the low season (December-February & June-September.
During the high season, green fees at Espiche rise to €79 (February-March & September-October).
Green fees for 2 players and a buggy range from €115 in the low season to €177 in the high season.
Twilight green fees are available at Espiche and cost €37 if you tee off after 15:30 and are available between January-October.
Espiche Golf Course Review
To say that Espiche Golf Course was a long time coming is something of an understatement. The course was conceived in the early nineties, but was beset with financial problems. It finally opened in 2012 and is one of the youngest golf courses in the Algarve. We can confirm that it was worth the wait.
Best Hotels Near Espiche Golf Course
There is no hotel on site at Espiche Golf Course, although there are plans to develop a boutique resort complete with Spa.
There are, however, some excellent accommodation options in Lagos, which is only 10 kilometres and a 15-minute drive away. Below are our highlighted recommendations.
Tivoli Lagos is a 324 room hotel located in Lagos in the beautiful old town. With several stunning golf courses nearby, including Palmares, Boavista and Espiche. It represents an excellent base for any golfing holiday.
Accommodation From: £57-£165 per night
The Marina Club Lagos Resort, is perfect for golfers looking to stay in the centre of Lagos, but still want to be close to a wide range of excellent golf courses. Nearby courses include: Palmares, Boavista and our favourite, Espiche. The resort is made up of 2 and 3 bed apartments and is perfect for families and couples looking for accommodation.
Accommodation From: £65-£178 per night
Hotel Vila Galé in Lagos, Algarve offers an ideal location for golf enthusiasts looking for comfortable accommodations and excellent facilities.
The hotel features comfortable guest rooms, an outdoor pool, a fitness centre, and Satsanga Spa, all designed to ensure a relaxing and enjoyable stay.
Accommodation From: £75-£175 per night
Palmares Ocean Living & Golf
Palmares Ocean Living & Golf is a luxurious adult-only hotel located in the beautiful Algarve region of Portugal. The resort is situated in the town of Lagos, offering guests easy access to various local attractions, including beaches, restaurants, and shops.
Guests can enjoy the luxurious outdoor swimming pool to relax and unwind after a busy round of golf.
Accommodation From: £129-£380 per night
Espiche Golf Course Packages
The majority of specialist golf travel agents offer Espiche Golf Course packages. Most packages will include a stay in one of the many hotels based in Lagos, which is only a 10-minute drive away.
Below are some of our top package recommendations for Espiche Golf Course.
Golfbreaks – Espiche Packages – From £315 Per Person
Golfbreaks offer a 3-night stay at Tivoli Lagos on a bed and breakfast basis, with three rounds of golf at the following golf courses Boavista Golf Course, Espiche Golf Course & Palmares Golf Course. Prices start at £315 per person excluding flights.
yourgolftravel – Espiche Packages – From £215 Per Person
Yourgolftravel offers 3 nights bed and breakfast at Tivoli Lagos and two rounds of golf. One round is played at Espiche Golf Course and the other at Boavista Golf Course. Prices start at £215 per person, excluding flights.
Espiche Golf Course Deals – When to Get Them

There are a range of Espiche Golf Course deals available that allow you to get the lowest green fees. It is possible to play this course for some of the lowest green fees in the Algarve.
Espiche Twilight Golf
If you can tee off after 15:30, you can get a twilight round of golf at Espiche Golf Course for just €37. This is perfect when playing in the long summer months, as it's very possible to fit the full 18 holes in before it gets dark.
2 Players Plus a Buggy
Prices start at €118 for 2 players and a buggy for 18 holes of golf during the low season between December and mid-February. This rises to €177 during peak season, but that's still less than €89 per person during the busiest times.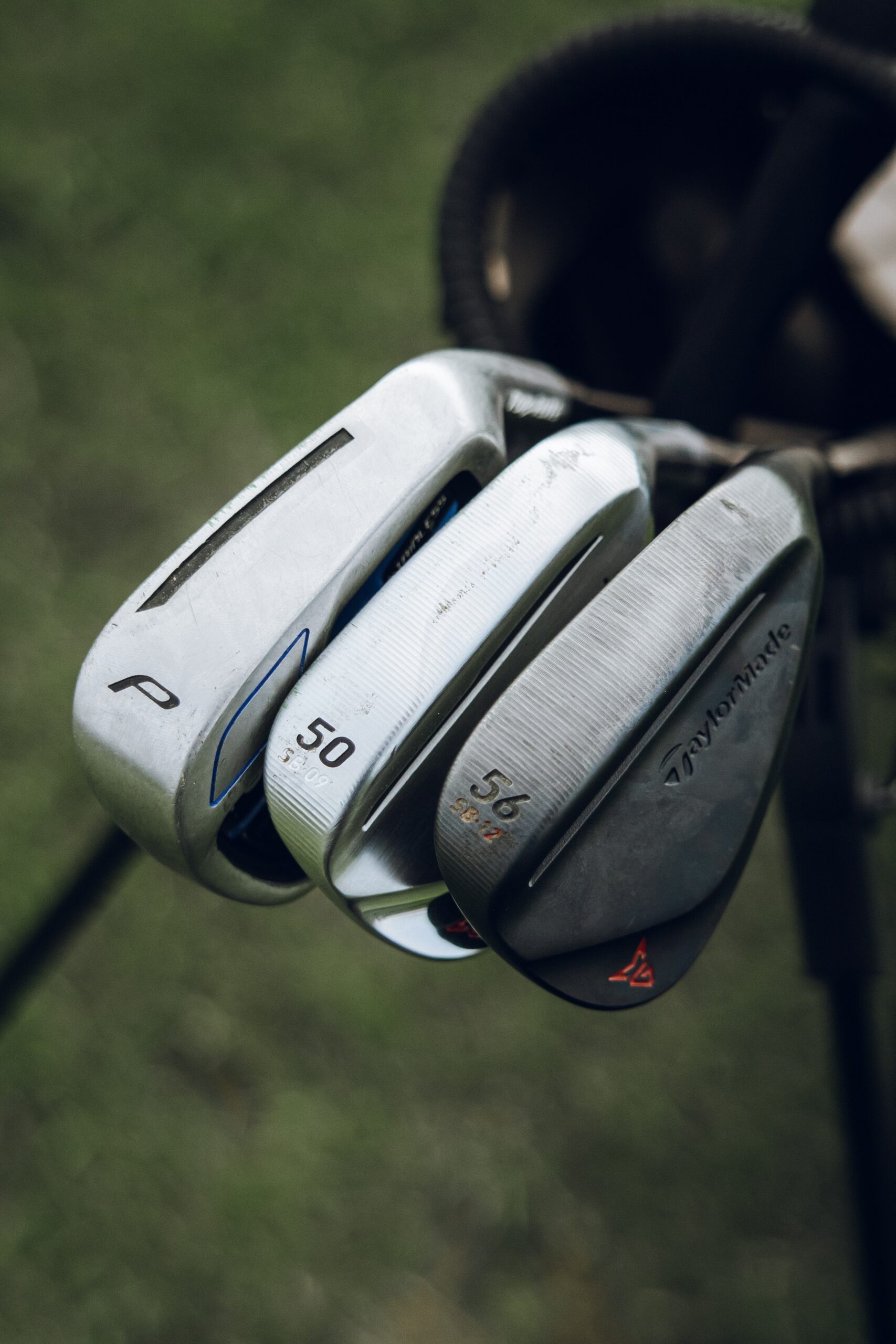 Golf Club Hire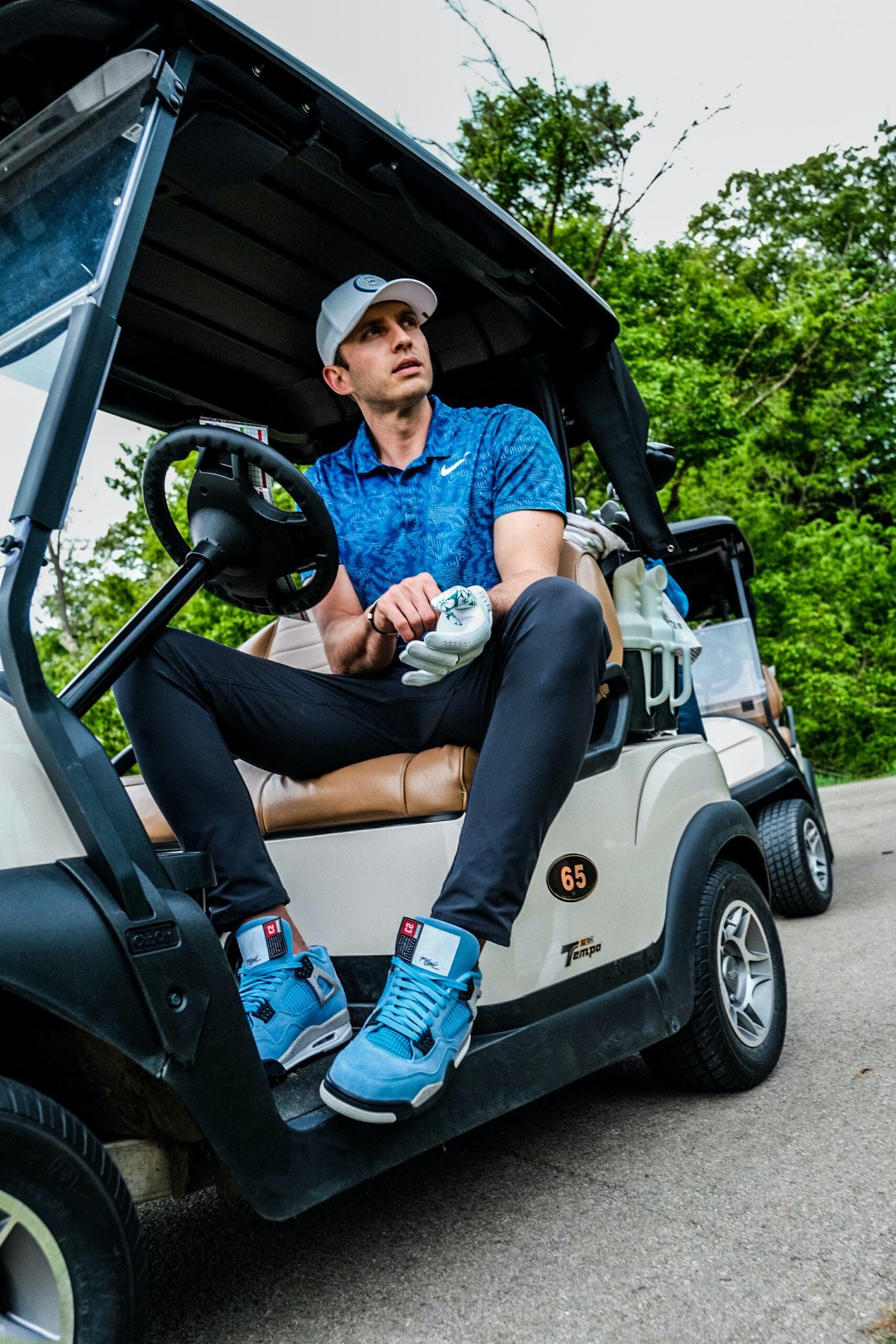 Buggy Hire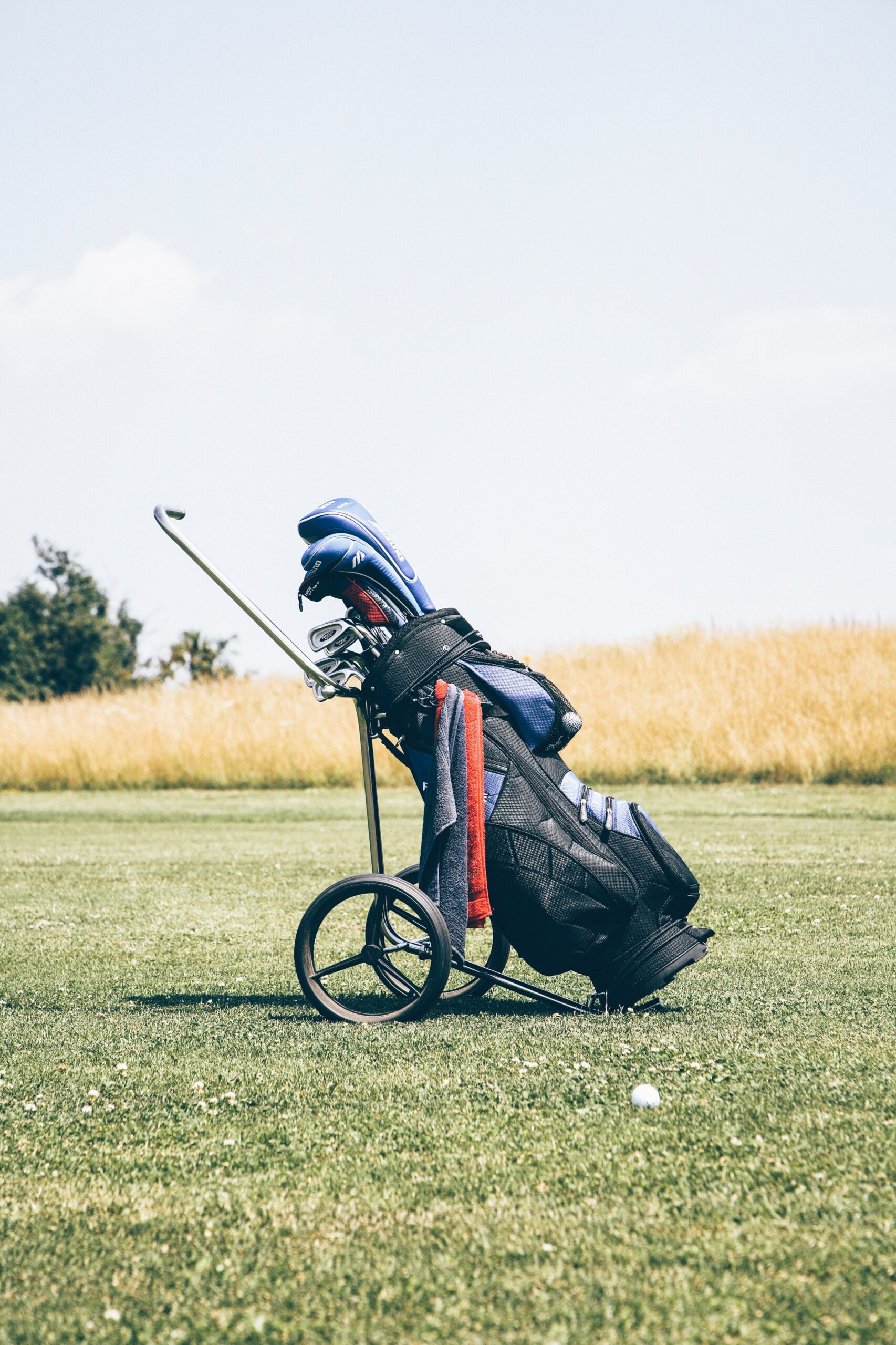 Trolley Hire
Where is Espiche Golf Course?
Espiche Golf Course is located 10 kilometres northwest of Lagos and is only a 20-minute drive away. The golf course is an inland course known for its tranquillity.
Portimao is also a short drive East and a perfect base for a golf holiday. Check out our guide to golf in Portimao for suggestions on the best courses to play and hotels to stay at during your visit.
However, there is plenty to see and do in the area, including boat trips, wine tasting, and kayaking from Lagos. Below are some additional activities we recommend trying if you stay in the area.
Lagos Wine Tasting Tour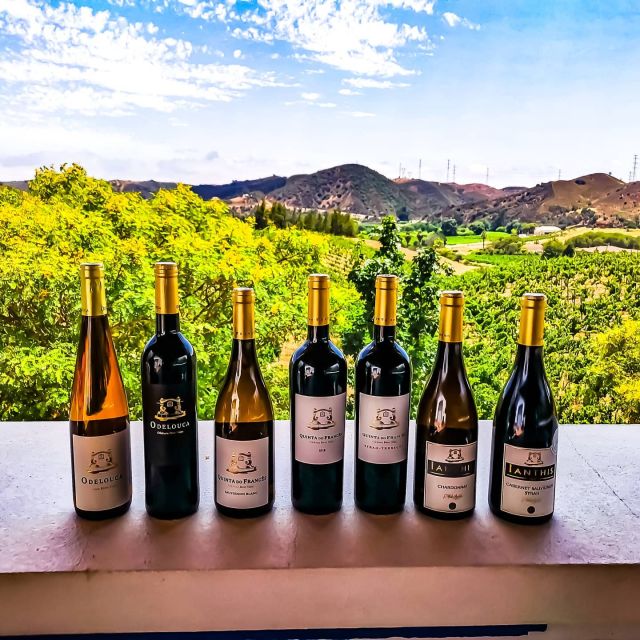 Indulge in a delightful wine-tasting journey, exploring a diverse array of premium wines from a regional winery on a 4-hour small group tour via minivan. Savour three exquisite local wines paired with a plate of tapas featuring cheese and sausages.
Take a tour of the winery's production and wooden barrel rooms, where the wine-making process takes place. On the way back to Lagos, take in the picturesque countryside, including the famous Algarve oranges, ancient cork trees, and some of the region's oldest villages.
Before returning to your lodging in Lagos, enjoy some free time to wander through the historic Moorish village of Silves, strolling through its cobbled streets and visiting the castle.
Algarve Golden Coast Cruise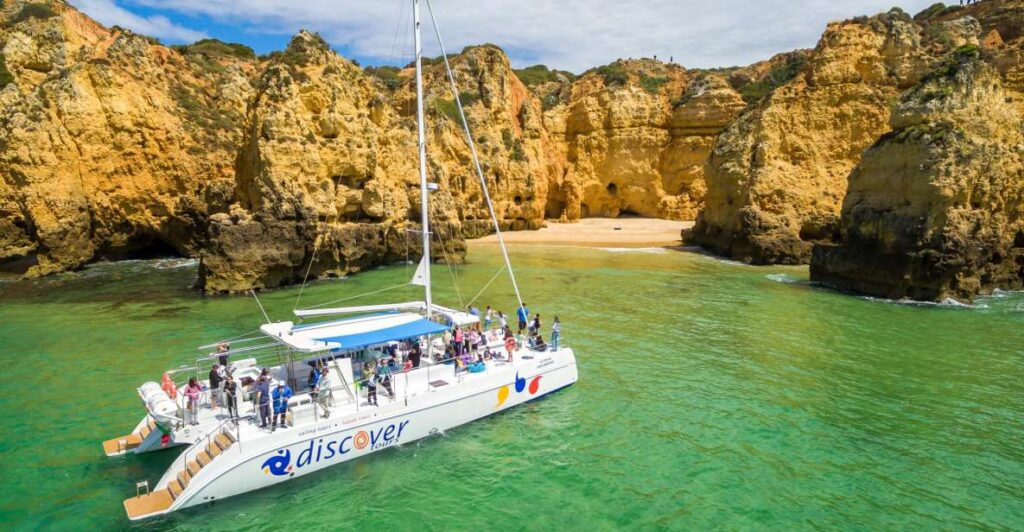 Embark on an exciting round-trip cruise from Lagos to Cabanas Velhas and explore the breathtaking southwestern Algarve with an onboard meal. Admire the stunning views of pristine beaches, towering cliffs, the caves of Ponta da Piedade, and the black rock of Praia da Luz. Observe the marine life with the snorkelling gear provided and experience the thrill of riding the waves on a SUP board.
Drop anchor in a secluded bay near the charming fishing village of Burgau and savour a complimentary meal. Take a dip in the water and snorkel among the marine life, relax with a cocktail on the deck, or go for a little adventure on a paddleboard. Take the opportunity to work off some energy on the inflatable balance track.
As you make your way back to Lagos, bask in the sun and keep an eye out for dolphins in their natural habitat.
Dolphin Watching with Marine Biologists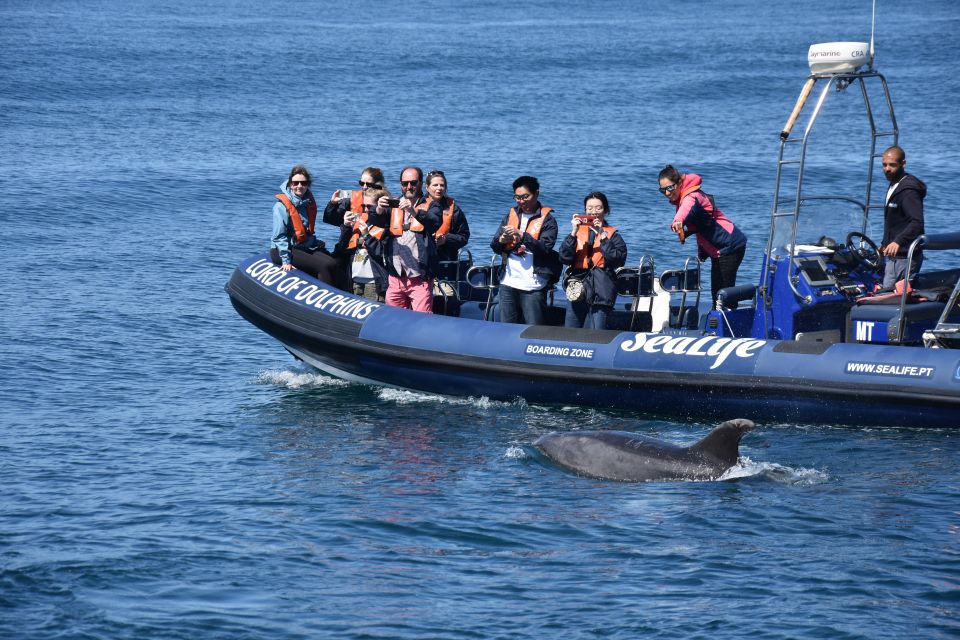 Experience the thrill of a 1.5-hour wild dolphin-watching tour as you depart from the Marine de Lagos. With a high success rate and expert crew, this tour is a must-do activity while in Lagos.
Climb aboard the boat and take a seat on the comfortable bench seating. Take advantage of the additional viewing area and keep a lookout for marine wildlife.
The marine biologist on board will aid in identifying the dolphins and interpreting their behaviour. They will also be collecting data for the preservation and conservation of these magnificent animals, as well as sharing their knowledge with you.
Each trip is an educational and memorable excursion that not only provides great memories but also contributes to scientific data to aid in future conservation efforts.
Nearest Airport to Espiche Golf Course
The nearest airport to Espiche Golf Course is Faro, 95 kilometres away. The journey should take 1 hour and 5 minutes by car.
Nearby Courses
There are plenty of golf courses within a 30-minute drive of Espiche. Check them out below.